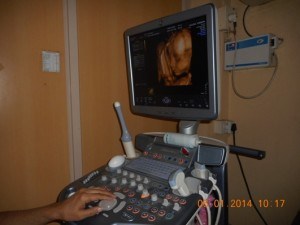 Ultrasound is a technique which uses sound waves to produce high definition images.
Our Ultrasonogram department is equipped with state of art machines like GE Voluson S6, GE Logic P 5 with various probes. These machines are capable of doing Colour Doppler studies of Abdomen, Obstetrics/ Gynecology, Cardiology, Small Parts, Urology and Pediatrics including 4-d studies. Our expertise in this area has made us a leader in Doppler Analysis and Tests. All our Ultrasound and Doppler studies are carried out by experienced radiologists.
The different types of ultrasound studies we do are:
Ultrasound of Ankle, Knee, Shoulder
Rheumatologists and other musculoskeletal practitioners refer to ultrasound scanning of these areas to determine course and treatment. As such ultrasound is the most non-invasive way to help detect, diagnose, and monitor many conditions in these areas and also cost-effective compared to CT and MRI.